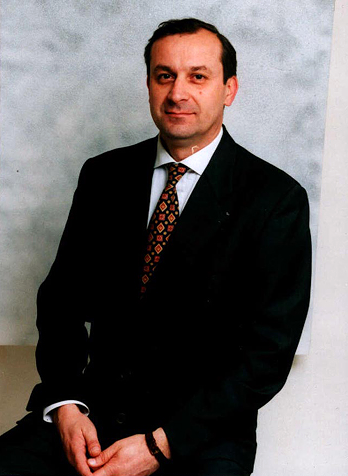 Fausto Caporali took his diploma in Organ and Organ Composition in 1981 at the "Giuseppe Verdi" Conservatory in Milan where he studied with Gianfranco Spinelli, and in 1983 he attained the title of Maestro of Gregorian Chant at the Pontificio Istituto Ambrosiano di Musica Sacra.  He received his post-graduate education participating in courses with H. Vogel (Baroque organ music of N. Germany), A. Isoir (French music of the Baroque period), E. Kooiman (French music), L. Rogg (Bach, Mozart, improvisation), M. C. Alain (Bach, J. Alain), D. Roth (modern French symphonizing) and G. Parodi (German Romanticism).  He studied privately with D. Roth in Paris and attended N. Hakim's summer courses on improvisation in Haarlem.  At the end of his academic studies, he applied himself to the study of Messiaen. He has published "L'Improvvisazione Organistica.  Un metodo teorico e pratico" ("Organ Improvisation.  A theoretical and practical method"), "Propedeutica all'improvvisazione organistica" ("Introduction to organ improvisation"), "L'accompagnamento del canto liturgico"("Accompaniement of liturgical songs"),  "Il dialogo perpetuo. L'opera per organo di Olivier Messiaen" ("The O. Messiaen's organ works", 2008), for Armelin Musica (Padua) and has edited publications of previously unedited music by Baroque composers.
He was a prize-winner at the Competition of Organ Improvisation of Biarritz in 1995 and 1997 and a semi-finalist at the International Competition of Improvisation in Haarlem in 1996.  As a composer he has to his credit Third Prize at the AGIMUS Competition in Varenna in 1996.  He is a writer of sacred cantatas, concerti and chamber music all of which have been successful with audiences and critics alike. He had collaborations with Ottoni della Scala, Coro Voci Bianche della Scala, Scala soloists, Antonella Ruggiero, Gianluigi Trovesi, Fabrizio Bosso.
He is active as a solo performer and accompanist of vocal and instrumental groups.  He has performed in Germany, France, Switzerland, England, Lithuania, and has recorded for Prominence ("Il grande organo del Santuario di Caravaggio" 1996);
Syrius ("Toccatas" 2002, "Grand Etudes de Concert" 2004);
MV ("Organisti e Maestri di Cappella della Cattedrale di Cremona" 2005);
Ass. Serassi ("L'organo di don Camillo" 2008);
MV ("Playing with Bach" – Organo e piano jazz – Erminio Cella pianoforte,  2013);
Sony ("Cattedrali" con Antonella Ruggiero, voce, 2015); 
Fugatto ("Opera Omnia per organo di C. Franck" 2 CD 2011, The six Vierne's Symphonies" 3 CD 2015);
"Brass and organ" Ottoni della Scala, Fausto Caporali organo, Brian Earl direttore, StudioSoundLab 2018 "Silver Medal Winner of Global Music Awards U.S.A 2018"; 
Tactus (Ulisse Matthey – Le opere originali per organo e armonium, 3 CD, 2020);
Ulisse Matthey, Le trascrizioni per organo, 2 CD, 2022;
Fausto Caporali, Via Crucis – Cantate sacre, for choir and instruments, 2 CD, 2023. LISTEN and BUY: https://naxos.lnk.to/TC950391Na!ILW022023
He regularly holds courses in organ improvisation in Italy, works as a music critic for magazines, is First Organist of Cremona Cathedral. He teaches organ and Gregorian chant at the Milano Conservatory.